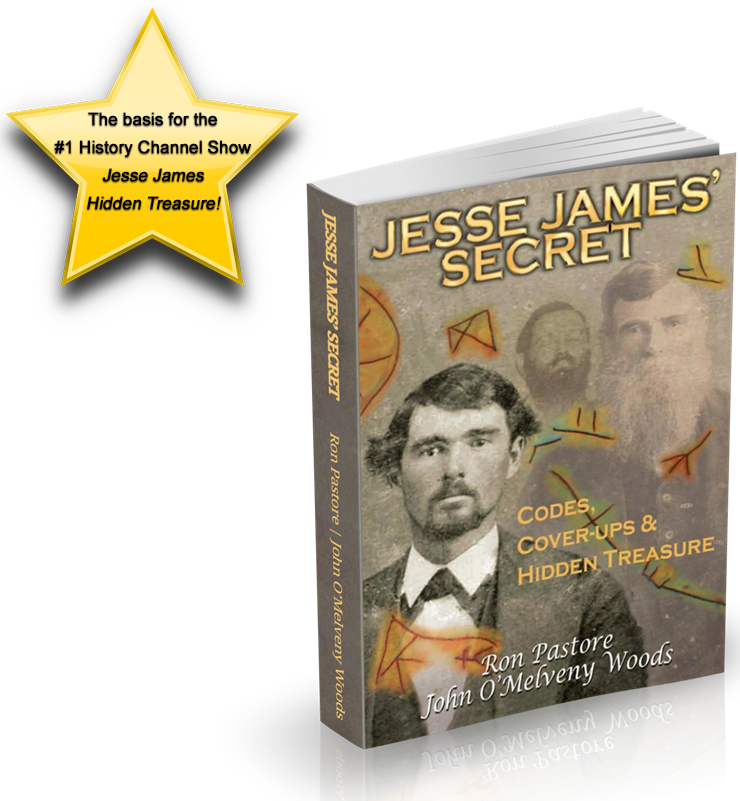 "Loved the book!" – C.
Two mysterious trunks discovered over 25 years ago by direct descendants of the outlaw Jesse James launched a quest by historical archeologist Ron Pastore to find the truth regarding the outlaw's true motives and the facts surrounding his death. This first person narrative launches the reader into the journey with Pastore as he relentlessly follows up every lead, hope and clue. As more is discovered, a historical conspiracy starts to unfold with intrigue and secret societies. Startling new evidence first suggests and then proves that the enigmatic outlaw Jesse Woodson James was much more than a common criminal. Indeed, his actions were based on a much larger goal… the creation of a new nation.
And his death? Could it have been a ruse to take the heat off of the much larger goal he and the secret society he belonged to had of remaining undiscovered? And what of the hundreds of millions of present day dollars worth of gold he stole? Tantalizing clues found in these trunks, coupled with years of research by Pastore, point to it still being buried, waiting to be discovered.
Jesse James' Secret, an explosive and gripping page turner, reveals all of this and more for the first time to the world.
Buy Now!
""As a history buff, I wavered on buying this. I was afraid it would contain wild claims and unsupported theories regarding Jesse James. I was pleasantly surprised to find that the authors provide enough evidence to at least make you think about their ideas.""

M.R.
""Makes you think! The information presented in this book I feel is very believable. I always had my doubts about Jesse's alleged death.""

O.F.
Sign Up For Our Newsletter